As an Amazon Associate I earn from qualifying purchases.
So you've mastered your drone piloting skills and recorded some cool videos over incredible locations. What's next? 
Wouldn't you like to be up there, if you could, experiencing exactly what the drone sees? Technology now allows you to put yourself into the sky with your drone, while you are flying it.
You'll also know exactly what video you are recording, instead of waiting to watch the footage when you've landed your drone.
Table could not be displayed.
SEVEN FPV BARGAINS: Image Quality: 8/10
Battery: 7/10
Comfort: 7/10
Signal Reliability: 8/10
Value: 8/10
Cheapest place to buy: this website
These goggles already look like the best buy. The SD image resolution is 720*526px and the picture quality shows no obvious time lag or dropout of frames. 
They feature "true diversity" radio receivers which means the twin antennas work on different frequencies, switching between them to obtain the strongest signal. This model can also record video.
The screen can be slipped out of the frame and used as a monitor when you become tired of wearing them. The battery lasts 60 – 90 minutes before a recharge is required, although you can buy additional batteries. 
This model weighs 0.8 pounds (375g) which is a little on the heavy side, but not unusual for FPV goggles at this price point.
The angle of view is a fully-immersive 82 degrees, with a 5-inch screen. Some users have reported difficulty using this model with glasses.
All in all, the Eachine is a great all-rounder for a beginner drone user.
Image Quality: 7/10
Battery: 9/10
Comfort: 7/10
Signal Reliability: 7/10
Value: 7/10
Cheapest place to buy: this website
FatShark does a whole range of FPV headsets – this is their entry-level model, which retails on Amazon for (click for current price).
It has an integrated receiver (i.e. not true diversity) and an image resolution of 800*480px. The Recon V3 records video to SD card up to 32GB.
The Fat Shark weighs around 1.1 pounds (500g) which is a little on the heavy side, but then the brand isn't called Slim Shark! 
The battery time is especially good, lasting up to four hours, but some users have reported occasional break-up in the image feed. However, an improved antenna is available as an upgrade, which should improve image quality.
This headset definitely doesn't work with glasses and one or two users have reported a little light leakage.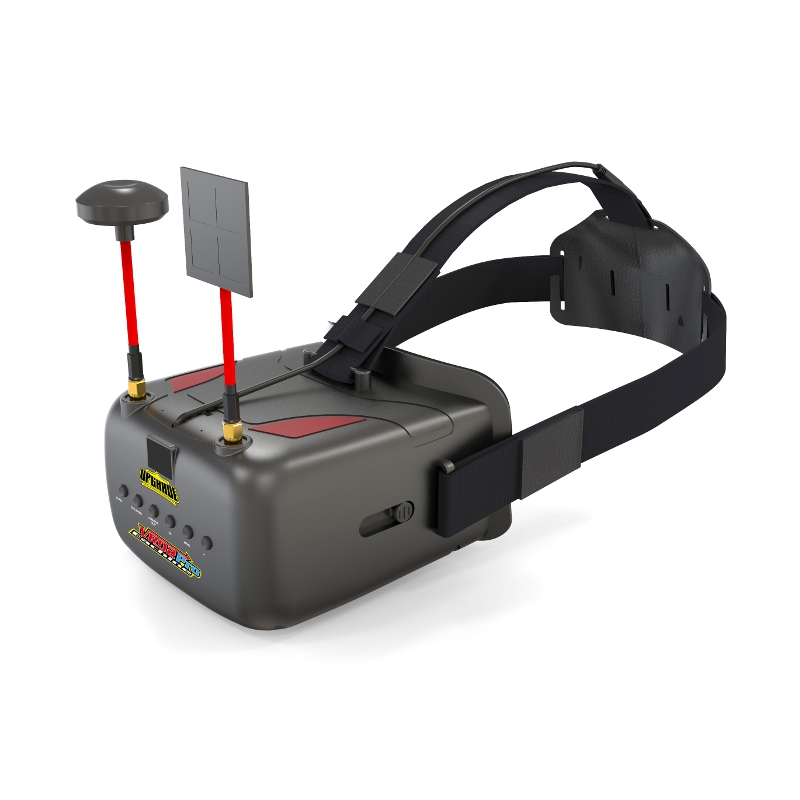 Image Quality: 7/10
Battery: 7/10
Comfort: 7/10
Signal Reliability: 8/10
Value: 9/10
Cheapest place to buy: this website
If you're on a real budget, these won't set you back more than $100. They have an 800*480px screen but can record up to HD quality video (1280*480 in a widescreen format). These goggles support up to 64GB of recording data.
The Eachine VR D2 Pro is quite lightweight, at 0.7 pounds (314g) including antennae, and can also be headset mounted. 
They also offer diversity switching, to ensure a steady signal and better image quality. Battery life should be up to one hour per charge.
Some users have reported focusing difficulties, particularly when using glasses. These score very highly with users who want as many features as possible in an entry-level set of goggles.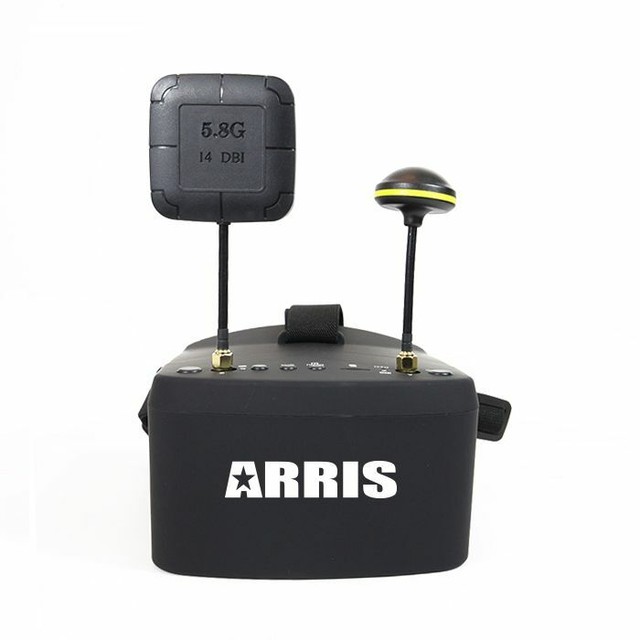 Image Quality: 7/10
Battery: 8/10
Comfort: 7/10
Signal Reliability: 7/10
Value: 9/10
Cheapest place to buy: this website
Even better value than the Eachine VR D2 Pro, these goggles, new for 2020, retail at (click for current price). 
Increased competition in the marketplace has meant the prices are beginning to drop significantly. This brand offers many of the same features as its competitors without as many frills.
The ARRIS's screen resolution is 800*480px with 3.5 hours of battery time without recording video, and 2.5 hours with DVR on. They have an unusually wide field of view (up to 82 degrees) giving a highly immersive experience.
As this is a brand new model, there aren't as many user reviews available. The consensus seems to be that this is a decent starter set but the build may not be as sturdy as other brands. Still, for the price, it is certainly worth your consideration.
5. Crazepony VR008 Pro 2
Image Quality: 6/10
Battery: 7/10
Comfort: 7/10
Signal Reliability: 7/10
Value: 8/10
At under $70, these are the lowest-cost FPV goggles we looked at. For this price, you don't expect a full suite of features but, at this price, and at just 0.65 pounds (295g) you can just toss these in your backpack and head out. 
The rechargeable battery lasts up to two hours, which is better than many others at this low price.
The 480×272 px screen is lower resolution than some rival brands but the VR008 Pro 2 can store up to 32GB of recordings on one card. The twin antennae aren't exactly subtle but do work exceptionally well.
The Crazepony is perhaps best thought of as a great present for someone who's not sure about FPV and wants to try it out without risking a piece of high-end kit.
6. KDS Kylin Vision Goggles
Image Quality: 8/10
Battery: 6/10
Comfort: 7/10
Signal Reliability: 8/10
Value: 6/10
Returning to the higher end of the price spectrum, these retail for $120 to $170 depending on the supplier. 
As well as an 800*480px resolution screen, they use intelligent frequency scanning to ensure a sharp signal.
One of the heaviest sets we looked at, these weigh in at 1.05 pounds (479g). Reviews, however, appear to be mixed with regards to building and the possibility of light leakage. These goggles use a single antenna and have a mirror focus system.
The KDS Kylin Vision definitely cannot be worn with glasses. The battery lasts around 30-60 minutes per charge.
Image Quality: 8/10
Battery: 9/10
Comfort: 7/10
Signal Reliability: 9/10
Value: 10/10
Cheapest place to buy: this website
A mid-priced FPV option, the DMKR features great specs. Like the Eachine EV800D, it offers true diversity, with two antennas ensuring you always have a great signal.
The DKMR 800*480px display measures up well, as does its 3-hour battery duration, one of the best we found. The best available in terms of DVR, the DKMR offers up to 720px recording resolution and 128GB of data storage.
Fairly comfortable although chunky, this model weighs in at 0.8 pounds (375g) without antennae.
The DMKR goggles can also be used on a tripod if your neck needs a rest. The range of features and the unit's high specification for just (click for current price), makes it a real bargain.
WHAT EXACTLY IS FPV?
This is where FPV (First Person View) goggles come in. These clever devices allow you to see, in real-time, exactly what the drone's camera is seeing. 
They are an amazing, immersive way to experience your drone's flights. Furthermore, they can help finesse your skills and allow you to learn more quickly. 
In this article, we'll run down the best available FPV goggle under $200. We'll look at which offer the most functions, which work best, and which provide the best value for your investment.
As with all hi-tech gadgets, there is a lot of jargon and a lot of factors to consider. Here's a helpful jargon-buster to get you started:
FPV GLOSSARY
FPV: First Person View. This means that you see exactly the image your drone sees, played on a screen in front of your eyes. Ideally, with as little leakage of light from around the screen as possible.
AVR: Audio/Video Receiver. This is the piece of technology that turns the radio signals into an image you can view.
DVR: Direct Video Recording. Most FPV goggles can record AVI-format video to SD cards which are slotted into the side of the unit.
RF: Radiofrequency. Simply put, this is the wavelength of the radio signal being used. Usually, this can be adjusted to different bands. Many AVR systems automate this, to zero in on the best quality signal from your drone.
True Diversity: Some models of AVR goggles have two different antennae. If the signal drops from one, the other should still be picking it up. Your goggles will automatically poll both antennae to select the best signal.
HD/SD: High Definition/Standard Definition. A measure of the number of pixels making up a video image. True HD is 1280*720 pixels (1280 horizontally and 720 vertically). At the price range, we are discussing, most FPV goggles will display a Standard Definition image of 800*480 or fewer pixels.
Antennae: Your FPV Goggles will have one or two different screw-in antennas to pick up the radio signals coming from your drone.
SMA: This is a common form of coaxial connector used in radio antennae. Most of your removable antenna will use this connector.
Frequency Range: The radio signals will be broadcast over one or more frequencies. You need to check your drone is compatible with the frequency range the FPV goggles can pick up.
Now that we've run through some of the key terminologies, what are the specifications you'll want to consider? Here are the key factors:
WHAT TO LOOK FOR WHEN YOU'RE BUYING FPV GOGGLES
Battery Life – this ranges enormously and you should check whether batteries are removable for charging, which means you can buy additional ones, so that you can use the goggles for longer.
Video Recording – most, but not all, models can record video to an SD card. You'll want to check this. Another factor to consider is how much storage the compatible SD cards can hold. It can range from 32GB to 128GB.
Comfort – two things to consider here – how well the goggles fit and whether they strain your eye's ability to focus at all. Bear in mind you may not be able to use glasses with FPV goggles, although some conversion kits are available.
Whether you can try before you buy, or are buying online, make sure you are happy with all of the above before you commit to keeping your purchase. 
Most suppliers have a returns policy, so take your drone for a test run with your new goggles and run through all of the above considerations.
We now know what to look for. Let's dive into what's on the market for less than $200.
Here are seven of the very best low-budget FPV Goggles available:
SOAR LIKE A BIRD
You can spend up to $1000 for a top of the range pair of FPV goggles and for that money you'll be getting the style, compactness of design, and a lot of features. 
However, if you just want to try out FPV for the first time without breaking the bank, the seven models above all offer good value.
If reliability is key, you might want to spend a little more and get the Eachine EV800D or DMKR models (I have the Eachine myself and can vouch for its' value for money). 
If, however, you just want to see what all the fuss is about or aren't sure you'll enjoy the FPV experience, the ARRIS or Crazepony goggles are good entry-level choices.
All of the above brands take drone piloting to a newly immersive level. The great news is that innovation and improvement are always happening in this technology. You'll always find something to suit your budget and must-haves.
Remember to check your model of the drone is compatible with the FPV headset. Don't hesitate to contact the supplier or manufacturer if you are at all uncertain. There's nothing more frustrating than having an amazing new toy to play with, only to find it doesn't work at all.
Make the right choice and soon you'll be soaring as high as a bird, and recording your flights to show your friends. Be careful though – you may never want to return to earth!
Amazon and the Amazon logo are trademarks of Amazon.com, Inc, or its affiliates.