As an Amazon Associate I earn from qualifying purchases.
Capturing the right photo can be incredibly powerful. It can evoke emotion and allow the viewer to mentally put themselves in the photo or feel as if they are in the same place as they see it. That is why a picture can say a thousand words, right?
And if you are a big fan of capturing powerful pictures, that means you may have already embraced the world of outdoor aerial imaging.
What makes aerial photography awesome than other concepts and types of photography is that you can get some serious aerial shots of a landscape. It gives a fresh point-of-view of panoramas from above that cannot be ordinarily seen by our naked eye.
So, if we're talking about the best technology to reveal the beauty of our planet from high above, the DJI Crystal Sky video monitor would surely be on your list of considerations. After all, this drone display is, first and foremost, created for outdoor aerial imaging.
If you want to know more about the DJI CrystalSky, keep on reading. We provide you this in-depth review about the CrystalSky monitor that features an ultra-bright screen that helps you take videos and pictures clearly even in direct sunlight.
So, let's get right into it!
TLDR: DJI CrystalSky Monitor Review
Product Description
The CrystalSky drone monitor is four times as bright as regular mobile devices. That way, when you used the technology outdoors, the on-screen details would be sharp and clear to you and the colors are vibrant too!
As a result, the videos and photos you capture are high-quality. You may also use the Sunlight Readability Enhancement feature or mode of this CrystalSky monitor, which is designed for processing photos in real-time and guarantees a comfortable viewing even in bright light.
In terms of video decoding, the CrystalSky monitor decodes in real-time with 180 ms. video latency. If you are using regular mobile devices (smartphones and tablets) before, you have probably experienced long latency or video jitter.
Well, not with CrystalSky monitor! Instead, DJI promises you a smoother video display because its optimized decoder provides real-time and smooth video with minimal video decoding latency.
For its power supply, the DJI CrystalSky video monitor has two cells 4920 mAh secondary external batteries so you can use it for longer periods than mobile devices. Even in low temperatures, this technology controls its discharge rate.
Probably also one of the highlights of this CrystalSky monitor is that it is built with a customized system that is resistant to junk software and viruses. This guarantees that the CrystalSky monitor can offer optimum performance.
Pros 
Real-time video decoding latency (180 milliseconds vs. 220 ms for typical mobile devices)

Supports quick charge

Maximum operation time: 4-5 hours and 5-6 hours (two cell external batteries)

Minimal latency than smartphones and tablets display

System resistant to junk software and viruses 

Maps available even if the CrystalSky monitor is out of Wi-Fi reach.

With dedicated 4K HDMI output, USB-A, Micro USB, and Micro SD port

 USB-C port to conveniently connect CrystalSky to other devices and remote controller

Max 2000 cd/m High Brightness

Battery with built-in LED status

Embedded DJI Go app
Con/s
DJi Crystal Sky Monitor: Is it worth it?
The CrystalSky video monitor is a worthwhile investment, whether you go for the 7.85 inches or the 5.5 inches display. When used for outdoor aerial photography, you have most of the features or supports you need for your hobby or passion, including a gyroscope, speaker, compass, brightness sensors, and GPS/GLONASS for this CrystalSky video monitor.
In-Depth Review of CrystalSky Monitor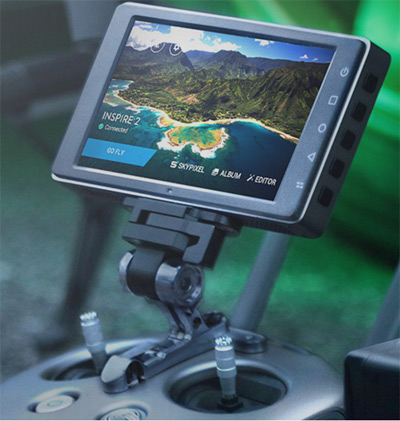 Specifications
7.85 inches
Display: Multi-touch display with IPS technology
Resolution: 2048X1536
Brightness: High brightness:1000 cd/m²
Ultra Brightness:2000 cd/m²
Operating System: Android
System Languages: Simplified Chinese, Traditional Chinese, English, and Japanese.
App: DJI GO, DJI GO 4, DJI Pilot
Memory: High brightness:ROM 64GB+RAM 4GB
Ultra Brightness ROM 128GB+RAM 4GB
Connectors: HDMI,Micro SD card slots/connection,Micro-USB and USB-C connection
Connectivity: WIFI:2.4G,5.2G&5.8G 802.11b、802.11g、802.11n(HT20)、802.11a
4G dongle support
GPS: GPS/GLONASS
Gyroscope: Support
Compass: Support
Speaker: Support
Brightness Sensors: Support
Mic: Support
Built-In Battery: 980 mAh, 3.7V
External Battery: 4920 mAh,7.6V(detachable)
Operation Temperature: -20℃ to 40℃ (-4℉ to 104℉)
4K Video decoding: H.264 4k 30fps / H.265 4k 60fps
Detailed size specs
Without Battery: 208.6*147.8*17mm
With Battery: 208.6*147.8*34.75mm
Outer Battery: 90*45*26mm
Quality and Durability
The battery of the DJI CrystalSky video monitor can easily withstand cold weather for as low as -30°F to 104°F and this is one of the major benefits of DJI Crystal Sky over smartphones and tablets besides the video monitor itself.
Generally, in terms of performance, we think it's one of the best products ever produced by DJI. As long as you take proper care of this product, you can extend the durability of its use. 
As for its loads and responses, we can say that the applications of this DJI product monitor are insanely fast, providing you a smooth and the best experience.
Additional Features
The DJI CrystalSky is one of the smart devices for any aerial photography enthusiasts because it can operate in certain temperature ranges. As a matter of fact, the external battery has been built in such a way that it can withstand extreme temperatures.
This additional feature allows the CrystalSky to operate in temperatures as low as -20°C (4°F).
The CrystalSky can also connect quickly to the DJI Inspire series, Phantom 3 series, and Phantom 4 series because of its system compatibility.
Warranty
Drone pilots or buyers of this CrystalSky monitor are given 12 months of warranty for most parts, but for what parts, specifically, you may have to check out DJI's after-sales service policies here.
Ultra-Bright DJI CrystalSky: Who is it Best for?
This DJI CrystalSky video monitor is best for professional drone pilots or drone enthusiasts who want a top-quality video monitor that can provide them a steady live video feed.
What Do People Say About it?
Amazon 
An Amazon buyer from the United States said that the CrystalSky monitor video monitor is "expensive, but worth every penny if you shoot in the sun." There's also another, who reviewed, "So much nicer than using my phone as a view screen!"
However, another Amazon customer said, "Really, no battery charging cable? What a joke. I was leaving on a trip the next day and not able to charge it."
YouTube 
Captain Drone reviewed the CrystalSky monitor on YouTube. He said, "I fly my DJI drones, not with tablets. I always use my cellphone. This is a Samsung Galaxy Note 8, probably one of the brightest cell phones on the market with a massive display. It has a 1200 NIT Brightness. So, when you're out in the sunlight you could see everything…
[With CrystalSky monitor], it's extremely bright compared to the normal phone… I'm impressed."
Reddit
A Reddit user said, "[I] tried all the setting[s] on both controller and the screen and I'm still getting a lag on the camera transmission." 
To which, another Reddit user replied in the same thread. He said, "I have minimal lag with my 7.85 UB. Have you tried a different USB cable?"
The Verdict: Should I Buy It?
Yes! The main takeaway that we want to highlight about this DJI drone screen is how flexible and easy it is. On its right, you will the buttons (power, application, and go back button). 
Then, there are programmable F1 and F2 buttons, allowing you to custom what it does according to your choice. If you want, you can program these monitor buttons to screenshot what the Crystal Sky video sees midair.
It uses optimized video decoding so it produces less latency with recording. Also, one of our favorite features of this monitor is the micro SD slot and mount holder. That way, if you want to save video files from your drone, the tech will have high reading and writing speed for high image quality.
The Crystal Sky likewise has an embedded DJI Go app so you can access all features, including camera control, playback, footage management, and aircraft perimeter adjustment.
Happy flying guys!
If you like this article, you might want to check out our other articles at UVS-Info.com. 
Amazon and the Amazon logo are trademarks of Amazon.com, Inc, or its affiliates.